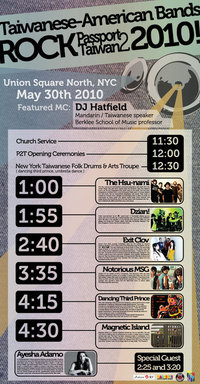 Just singing a couple of songs in Union Square tomorrow afternoon.  I'll be doing a Chinese song and a Loss of Eden song.  The event is called Passport 2 Taiwan and is a part of Taiwanese American Heritage Week in NYC, and Asian Pacific Heritage month.  You can find out more at the event's website or at the facebook event page:
http://www.facebook.com/event.php?eid=333293782154&ref=ts
Or just show up! I'm going to be doing one song at 2:25, and one at 3:20, according to the schedule, which appears to be very precise.  Would love to see you there!