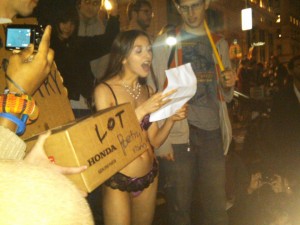 Sometimes a song comes along with a shitty, repetitive chorus, and it all goes down like melba toast…like when John Mayer once encouraged us to "Say what (we) mean to say" in eight not-so-different ways.  Other times, there's the repetitive chorus that we're meant to be able to remember—even while shit-faced on Patron…like when Taio Cruz tells that "Little Bad Girl" to just "Go" already, stamping along in time to some David Guetta beats.
But once in a while the simplest, most repetitive phrase in a song can mean everything.  This is when you're breathing that rare air of The Doors' "Indian Summer."  Jim Morrison and Robby Krieger work their magic(k), and suddenly, "I love you the best.  Better than all the rest" is like the most profound lyric you've ever heard.  Sometimes a pop song comes along and hits in just the right way, at just the right time.  Such is the case with Rihanna's new song, "We Found Love."
"We found love in a hopeless place."  There it is: the moment.  You don't need to say anything else.  There's no need to riff on an explanation of that; you've probably known what it means since the beginning of time. "We found love in a hopeless place."  That's everything.  You know exactly what it is.
Hearing this song while thrift store shopping for used clothes that the character in my new play might wear does things to me.  Powerful things.  It's like a huge homage to a time in my life when I did have hope, and I don't just mean a general kind of universal hope for the future, the suspension of doom that was the 1990's, I mean on a personal level.  It's those opening synth sounds that remind you of Crystal Waters' "Gypsy Woman"…it's like you already know this song, could recognize it anywhere, always knew it.  When you listen to what Calvin Harris did, the reference to 90's house music right from the very first moments of the track, already you're transported to a time when people weren't glued to their cell phones or email, when there was this new kind of strangely innocent thing, this dance music, this acid house, this scene that had its grisly dark side of OD's on the dancefloor, but more than that just had a lot of love.  This is the synthesized voice of love in analog.
And then there's the video.  This is no Lady Gaga over-priced hack-job imitation of the material girl's ambitiously blond anthology, in which Gaga, the born-rich "artiste," stares gauntly into the camera in an attempt to convince you that there's something big and emotional and powerful in her when in fact it's just another shade of neon in her vacancy sign.
No!
The beauty from Barbados actually feels things in this video and we feel them too.  The people who put this video together knew what the hell they were doing.  They stole all the right stuff: the dilating pupils and bathtub moments from Requiem for a Dream, the grey-skied open fields and flop houses from Trainspotting…this is divine 90's montage: this video is perfect.  It's perfect because it's actually presenting images from an era that was hopeful, in the same way that Harris' musical track calls on the sounds of some seemingly-ancient rave time, so you feel the hopelessness of now even more.  Sure, they could have shown images of children playing joyfully by fracking wells, or couples embracing while on the unemployment line in, like, Gary, Indiana or something.  That would have been love in a hopeless place too, but that would have been too explicit.  All that is already implied.  And it doesn't matter that there are shades of Rihanna and Chris Brown's relationship in the video.  Nobody cares.  Chris Brown is just fuel for the story.  And the story is beautiful.  This past weekend, a poet friend of mine asked me if I've ever really been in love. I think you know love when you see it and the real thing looks just like this music video and sounds just like this song. I might as well just say it: I wish I could afford to do something this good…and I can't.
Instead, I spend time at Zuccotti Park and sometimes I sing down there with just the voice that I have, a voice that can almost sort of compete with the sound of jack-hammers and the general assembly.  And it is beautiful.  It is one of the only beautiful things I've experienced for myself as a performer in a long time.  It is beautiful, but it is small.  Too small for me.  I always long to do something meaningful.  I'm not always that hopeful about it.  For now, I'm just one RSS feed in a giant trough of RSS feed.  So I become a part of something, something that I'm already a part of: the 99 percent.  I'm no Rihanna.  I wish I could be Rihanna.  I wish this were my song, but I'm faceless and nameless and the best my voice can hope for is to be a part of the roar of the great din, the crashing on the shore, which has its own cacophonous majesty.  In a sea of stars, there's no shine in particular, just sameness.  But it's an amazing kind of sameness.  Invisibility is a kind of superhero power too. This coming moment might be the end of the era of having a name.  In so many Guy Fawkes masks, we're all Anonymous and who knows what kind of songs will come from the nameless, but maybe we will find a more hopeful place.
Thanks to Michael Geffner for the photo at OWS Poetry Assembly, above.
One Response to "Four-letter words like Love and Hope"