by Ayesha Adamo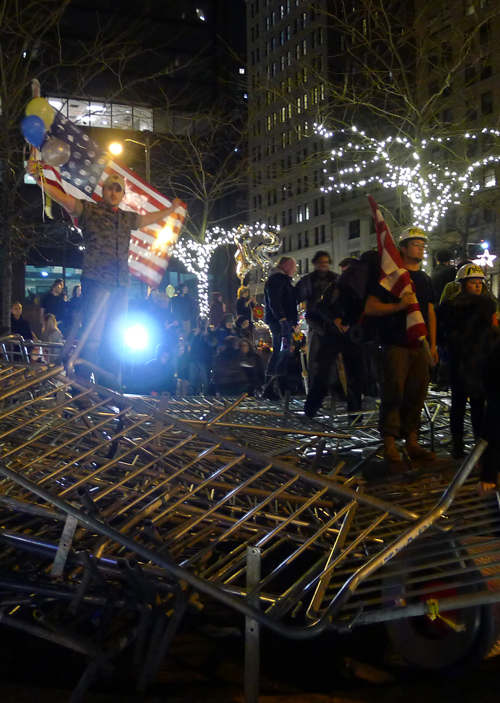 This is what 2012 looks like, in case you were wondering.  I spent my New Year's Eve in Liberty Square here in New York, ready to occupy the New Year.  If you were there, then you know.  If you weren't, then let me tell you that as I watched the team from Direct Action swoop in and pull barricades down, winning a tug-of-war against the cops who were outnumbered for once, thanks to the festivities in Times Square, I knew that this was the best New Year's Eve of my life.
I knew it even more so as I, with my fellow occupiers, climbed the great pile of barricades that the people had tossed into the middle of the park.   We stood on top, looked out over the sea of faces that had gathered, and shook the ground.  And you could just tell—the myths are finally here: this is what 2012 was always meant to be.  This is what I've been waiting for all my life.
Later the NYPD battalions in riot gear would descend upon the park, kicking out the few of us who decided not to go on the march to the East Village, but it was already too late: the ground had already been shaken and the barricades had already toppled.  The symbol, the ritual, had already been completed, set into motion…the magick button had been pressed and no matter how many arrests were made that night, nothing could change it.  Standing outside the 9th Precinct at 4 in the morning to cheer our warriors as they exited the paddy wagon, and get an idea of names to pass on to the National Lawyers Guild, the night was winding down, but with the knowledge that nothing was over.  Far far from it.  Viva la revolución!  Viva 2012!
One Response to "This Is What 2012 Looks Like"