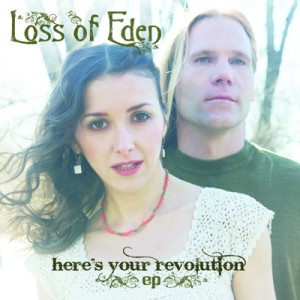 In the 21st century musical climate that celebrates the vocoded voices of model types whose songwriting credits exist theoretically if at all, Ayesha Adamo and David Deau, otherwise known as Loss of Eden, are revolutionaries just for recording honest music that sounds like it might actually come from natural-born human beings. These musical soul mates, coming from nearly opposite backgrounds – one schooled in music theory, one a street musician, and both writing from the heart – have come together to bring us a sound that is reminiscent of retro pop/rock with a sensibility and gaze that speaks directly of our times.
A former Mandarin pop star and electronic music DJ who's left behind the world of girl groups and dance moves for earthy grooves and guitar amps, Ayesha's experiences and influences are diverse. Ayesha grew up by the ocean and sands of the Jersey Shore in the tiny town of Island Heights. Her love of music first developed during many years of ballet class, which ultimately lead her to New York to pursue a career as a professional ballerina. It was there that Ayesha first took an interest in DJing while working as a dancer at the legendary superclub, Twilo. She soon saved up enough money to buy her first turntables and taught herself the art of beat-mixing. Not long after, she began classes at Barnard College, with an interest in studying computer music at Columbia University's Computer Music Center. She lied about being able to read sheet music, and soon found herself as a freshman in her first graduate level music class on electronic music composition.
It wasn't long before Ayesha's musical talents started taking her places. While in Taiwan on a summer scholarship program to study Chinese, Ayesha got her first chance to make music her life. She unexpectedly found herself joining pop singing group Beauty4 and signing with EMI Records. Beauty4 released their first album to much success, particularly considering that they were the first international, racially mixed group to release a Mandarin Chinese album in Taiwan, singing and interviewing entirely in Chinese. The group toured Taiwan and other areas in Asia. Of course, Ayesha still had a passion for DJing, and it was her special blend of progressive house, deep trance, tribal, and breaks, which ultimately landed her the opportunity to record her first double CD mix set as a DJ for the Muzik Boutique series on Highnote Records Asia. Ayesha has played clubs all over Taiwan, including a residency at 2F – one of the best venues in Taipei – as well as at the legendary Texound. She was formerly on the roster of Producer Artist Management and has brought her unique sound to clubs and parties in North and Central America, keeping the spirit of those early days at Twilo, which was her first inspiration, alive. Upon returning to the US, Ayesha worked to finish her degree in Music at Barnard College, Columbia University, where she graduated summa cum laude and was awarded the Ethel Stone LeFrak Prize in Music, as well as several other awards in poetry. It was during this period and her post-grad years of acting study at William Esper Studios that her songwriting really took off, and she began writing constantly.
Meanwhile, David Deau was on his own very different musical journey. A former military airman, an engineer, organic farmer and rock guitarist, David was born in Milwaukee, Wisconsin and ultimately left the Midwest to explore the world of entertainment more fully. He attended inner city elementary schools, which began his eclectic foundation of streetwise artistry and knowledge. Influenced only by informal street artisans and the diverse culture that surrounded him, David began to take an interest in sports, music, and homegrown entertainment. After moving to a suburban community and being given a guitar at the age of seventeen, the musical influence of family members and friends began to take hold. Needing an escape from his quiescent high school days, he joined the United States Air Force to earn money for college and to begin an introspective self-study regimen of guitar playing, songwriting, and literature. From the advice of some of the top fighter pilots in the USAF, David entered a Palace Chase program to leave the Air Force to pursue academia full time at the University of Wisconsin at Madison. David's belief in keeping artistic skills natural and informal led him to pursue a curriculum in Engineering rather than Music, though throughout these years of scientific study David had to balance a "double life" of both his science studies and creating his own rock band.
The band Double Life was formed and debuted the "White and Black" CD in the summer of 2000 which was recorded at Smart Studios in Madison, Wisconsin and engineered by Mike Zirkel (Garbage, Smashing Pumpkins). David wrote all of the band's music throughout these formative years. Singles from this release garnished airplay on rock/college radio stations around the Midwest and flourished in the Internet community on sites such as Garageband.com and MP3.com. Through live performances and media, the band's popularity increased and sparked the attention of Producer/Engineer Steve Albini (Nirvana, Bush, Pixies, The Breeders). Steve Albini recorded and mixed a heavier sounding 3 Song EP release for Double Life in 2001. Shortly after the release, the band ended up calling it quits due to personal differences. Disillusioned with the corporate engineering world and the lack of discipline amongst artistic contemporaries, David continued his journey by joining bands in Florida and supplementing his income with fitness and commercial modeling. The love of performance arts continued guiding David to independent and commercial film projects, which ultimately led him to New York City. David's experience as an artist grew in NYC with roles in short films and off-off Broadway theatre performances, culminating with an appearance in Martin Scorsese's "Shine a Light" documentary of the Rolling Stones.
During this time, David was looking for a female vocalist to team up with and create a new but classic melodic rock sound. He met Ayesha through the Internet and their first face-to-face meeting was in Manhattan's Bryant Park. All through her time in Asia and her many nights playing at dance clubs, Ayesha kept a journal of all she had seen and heard on her adventures. She had been perfecting her songwriting style all along, but it wasn't until meeting David Deau through that one lucky Internet posting that her true voice, as a vocalist and a writer, would shine. The two clicked instantly, and within three months, the two began writing, recording, and engineering their own demos, which were the blueprint for the work that they later re-recorded with producers Danny Leake and Fran Allen Leake (Kanye West, Janet Jackson, Sting, Hank Williams Jr, Stevie Wonder) in Chicago.
Even though their collaboration as songwriters was seamlessly smooth, the road to re-recording at Chicago Recording Company would be a tough one. The two would find themselves penniless in Harlem and then Milwaukee, leaving behind what little they had to make this album a reality. The recording soon became a family affair, with Ayesha's family raising funds, and David reuniting with two long-lost stepbrothers to rehearse as a band for the recording. But Ayesha and David were determined, and no amount of adversity could stop them – not the blizzards of winter that they braved commuting to the studio from the farmlands of Wisconsin, not unexpected car breakdowns, not even Ayesha's broken foot which forced her to record all the songs while standing on one leg.
Every note of Loss of Eden's forthcoming album has been both hard won and well earned, a journey of fateful meetings and reunions, as well as life tests and labors of love. The music of Loss of Eden is the music of honesty, lessons learned, true encounters, laughs among friends, and the love of people, music and life. In a music world where imperfection itself is a radical idea, Loss of Eden brings you the kind of transparency you've been waiting for. If you long to hear songs with lyrics that are meaningful, truthful vocal performances, and a return to songwriting with story and emotion, then Here's Your Revolution.
Loss of Eden's latest album, Here's Your Revolution EP, is available on iTunes and Amazon. You can also visit us on Facebook, Youtube, Myspace, and LossOfEden.com