by Ayesha Adamo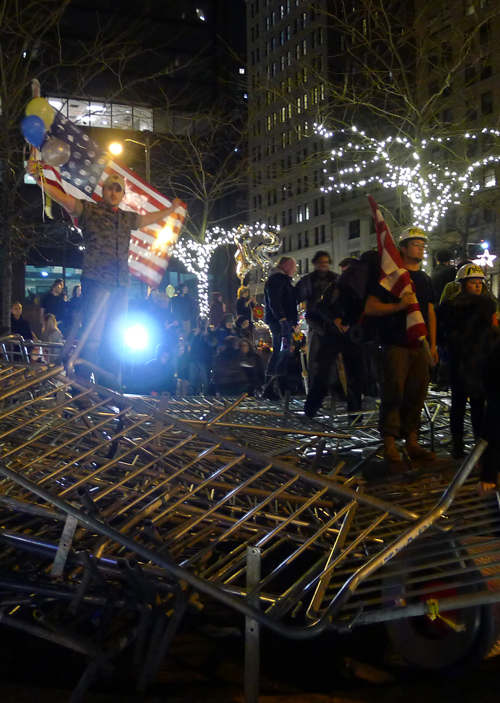 This is what 2012 looks like, in case you were wondering.  I spent my New Year's Eve in Liberty Square here in New York, ready to occupy the New Year.  If you were there, then you know.  If you weren't, then let me tell you that as I watched the team from Direct Action swoop in and pull barricades down, winning a tug-of-war against the cops who were outnumbered for once, thanks to the festivities in Times Square, I knew that this was the best New Year's Eve of my life.
I knew it even more so as I, with my fellow occupiers, climbed the great pile of barricades that the people had tossed into the middle of the park.   We stood on top, looked out over the sea of faces that had gathered, and shook the ground.  And you could just tell—the myths are finally here: this is what 2012 was always meant to be.  This is what I've been waiting for all my life.
Later the NYPD battalions in riot gear would descend upon the park, kicking out the few of us who decided not to go on the march to the East Village, but it was already too late: the ground had already been shaken and the barricades had already toppled.  The symbol, the ritual, had already been completed, set into motion…the magick button had been pressed and no matter how many arrests were made that night, nothing could change it.  Standing outside the 9th Precinct at 4 in the morning to cheer our warriors as they exited the paddy wagon, and get an idea of names to pass on to the National Lawyers Guild, the night was winding down, but with the knowledge that nothing was over.  Far far from it.  Viva la revolución!  Viva 2012!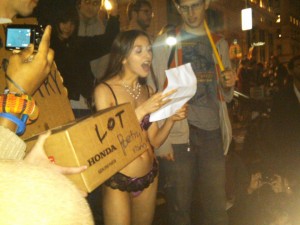 Sometimes a song comes along with a shitty, repetitive chorus, and it all goes down like melba toast…like when John Mayer once encouraged us to "Say what (we) mean to say" in eight not-so-different ways.  Other times, there's the repetitive chorus that we're meant to be able to remember—even while shit-faced on Patron…like when Taio Cruz tells that "Little Bad Girl" to just "Go" already, stamping along in time to some David Guetta beats.
But once in a while the simplest, most repetitive phrase in a song can mean everything.  This is when you're breathing that rare air of The Doors' "Indian Summer."  Jim Morrison and Robby Krieger work their magic(k), and suddenly, "I love you the best.  Better than all the rest" is like the most profound lyric you've ever heard.  Sometimes a pop song comes along and hits in just the right way, at just the right time.  Such is the case with Rihanna's new song, "We Found Love."
"We found love in a hopeless place."  There it is: the moment.  You don't need to say anything else.  There's no need to riff on an explanation of that; you've probably known what it means since the beginning of time. "We found love in a hopeless place."  That's everything.  You know exactly what it is.
Hearing this song while thrift store shopping for used clothes that the character in my new play might wear does things to me.  Powerful things.  It's like a huge homage to a time in my life when I did have hope, and I don't just mean a general kind of universal hope for the future, the suspension of doom that was the 1990's, I mean on a personal level.  It's those opening synth sounds that remind you of Crystal Waters' "Gypsy Woman"…it's like you already know this song, could recognize it anywhere, always knew it.  When you listen to what Calvin Harris did, the reference to 90's house music right from the very first moments of the track, already you're transported to a time when people weren't glued to their cell phones or email, when there was this new kind of strangely innocent thing, this dance music, this acid house, this scene that had its grisly dark side of OD's on the dancefloor, but more than that just had a lot of love.  This is the synthesized voice of love in analog.
And then there's the video.  This is no Lady Gaga over-priced hack-job imitation of the material girl's ambitiously blond anthology, in which Gaga, the born-rich "artiste," stares gauntly into the camera in an attempt to convince you that there's something big and emotional and powerful in her when in fact it's just another shade of neon in her vacancy sign.
No!
The beauty from Barbados actually feels things in this video and we feel them too.  The people who put this video together knew what the hell they were doing.  They stole all the right stuff: the dilating pupils and bathtub moments from Requiem for a Dream, the grey-skied open fields and flop houses from Trainspotting…this is divine 90's montage: this video is perfect.  It's perfect because it's actually presenting images from an era that was hopeful, in the same way that Harris' musical track calls on the sounds of some seemingly-ancient rave time, so you feel the hopelessness of now even more.  Sure, they could have shown images of children playing joyfully by fracking wells, or couples embracing while on the unemployment line in, like, Gary, Indiana or something.  That would have been love in a hopeless place too, but that would have been too explicit.  All that is already implied.  And it doesn't matter that there are shades of Rihanna and Chris Brown's relationship in the video.  Nobody cares.  Chris Brown is just fuel for the story.  And the story is beautiful.  This past weekend, a poet friend of mine asked me if I've ever really been in love. I think you know love when you see it and the real thing looks just like this music video and sounds just like this song. I might as well just say it: I wish I could afford to do something this good…and I can't.
Instead, I spend time at Zuccotti Park and sometimes I sing down there with just the voice that I have, a voice that can almost sort of compete with the sound of jack-hammers and the general assembly.  And it is beautiful.  It is one of the only beautiful things I've experienced for myself as a performer in a long time.  It is beautiful, but it is small.  Too small for me.  I always long to do something meaningful.  I'm not always that hopeful about it.  For now, I'm just one RSS feed in a giant trough of RSS feed.  So I become a part of something, something that I'm already a part of: the 99 percent.  I'm no Rihanna.  I wish I could be Rihanna.  I wish this were my song, but I'm faceless and nameless and the best my voice can hope for is to be a part of the roar of the great din, the crashing on the shore, which has its own cacophonous majesty.  In a sea of stars, there's no shine in particular, just sameness.  But it's an amazing kind of sameness.  Invisibility is a kind of superhero power too. This coming moment might be the end of the era of having a name.  In so many Guy Fawkes masks, we're all Anonymous and who knows what kind of songs will come from the nameless, but maybe we will find a more hopeful place.
Thanks to Michael Geffner for the photo at OWS Poetry Assembly, above.
By Ayesha Adamo
Everyone has heard about the occupation.  Everyone has seen the Youtube videos of police arrests and celebrity interviews.  But on the eve of eviction, in the sometimes-pouring rain and thunder, in the middle of the night…there is another story to be told.
This is what you don't get to see or hear as much about: the simple beauty of the exhausted, damp and nameless pushing brooms in a slow moving swarm from one end of the park to the other, here in the evening's damp haze made shimmering by the remaining lights from the buildings above.   This is when the celebrities and their spotlights and agendas are nowhere to be found (except that we were sweeping with none other than Santa Claus himself, all dressed in red).  During the quiet moments, everyone's a leader and no one's a leader.
Part of me was thinking with concern about the runoff contamination from the cleaning agents in these suds, as we were mopping along a stream of soap bubbles, leaves, bits of salami and abandoned hair elastics, but it also seemed to be a necessary evil.  It's likely that the cleaning effort had a big impact on the city's decision not to evict the protesters.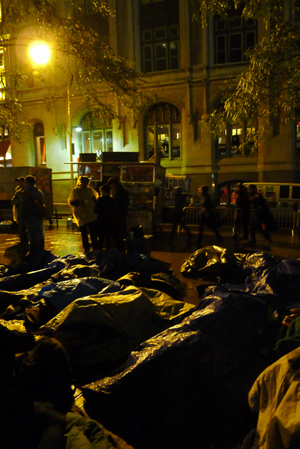 Throughout the night and into the morning, truckers would drive past and honk their horns loudly in solidarity, which was always met with cheers, no matter the hour. We slept on the plain ground covered with only a plastic bag to keep dry because the plan that night was to minimize the amount of sleeping bags and bedding in the park. As 5am approached, a girl came by giving out dry socks to people.  Others passed around Sharpies to write the phone number of the lawyers on their body in case of arrest.
More and more people were showing up at the park, and by 6am, it was a sea of bodies as far as you could see in any direction—so far out that any statement over the people's mic needed to be repeated in three or four ripples.  So many faces, so many lights!—from cell phones, candles, video cameras…But when the breaking news came over the crowd—the news that the cleaning/eviction had been canceled—this enormous group was so unified that the words needed no repetition.  From the cheers of joy alone, everybody knew.  And everybody knew that they had just experienced something absolutely historic, I dare say absolutely spiritual.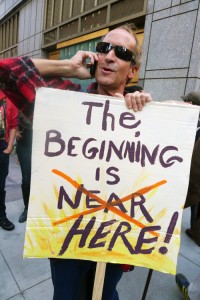 by Ayesha Adamo
With a clear blue sky and weather almost warm enough to go topless (and there were some who did), they couldn't have picked a better day for a protest.  On Wednesday 10/5/11, I came down to Occupy with the Columbia University contingent, a truly boisterous group that kept the chanting going non-stop using "the people's mic" technique, which has proved so helpful in an action where no amplification is allowed (everyone repeats after the central speaker so that the message travels out to rings of people further and further away).
Down at Wall Street, all the groups seemed to melt into one another.  There were union groups, student groups, a marching band with four tubas, a kindergarten class holding a banner together and chanting in tiny voices to share and not be greedy…just people of every sort imaginable coming together to express the need for a real change in the way things are now.  And there didn't need to be just one reason to be there because this is the new way of protesting, of understanding.  This is the rhizome, like the world wide web, and the links and connections between one thing and another don't need to make sense in a linear format.  They only need to be.  Just to be seen by the people in those tall buildings who don't touch public pavement is a win, and a person would have to be cold-as-dead to look out on a crowd like this and not be moved.  When I look around at all these faces—their eyes, hearts, the blood in their veins—I feel like I've been waiting for this all my life, and finally…The Beginning is Here.