by Ayesha Adamo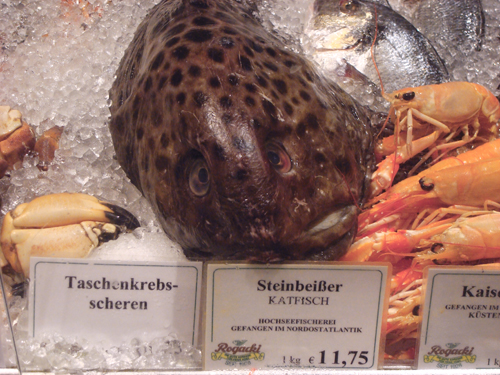 It seemed that the moment my plane landed in Berlin, Spargel season had officially begun.  There was hardly a restaurant in the city that wasn't offering some sort of Spargel-special, four courses of Spargel…even dessert.  I had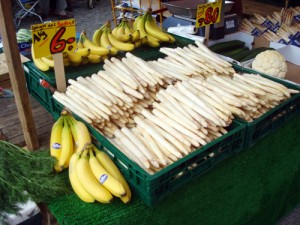 never heard of Spargel before, but I learned pretty quick.  Spargel is this thick white asparagus that Germans seem to go crazy for, especially because it's only available for two weeks out of the entire year.  It's a little bit phallic looking, and maybe that's part of the charm, too.  You can see piles of it here, in this photo I took at the Turkish market in Kotti: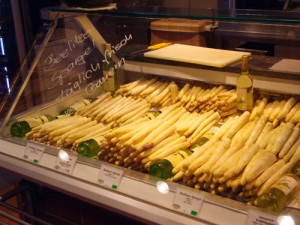 The fantastic deli, "Rogacki," where I got my first taste of Berlin, was no exception to the rule of Spargel either.
Rogacki is the deli to end all delis.  I mean, I used to deeply mourn the loss of Second Avenue Deli down in the East Village after it lost the rent war to a Chase Bank branch (which I suppose is exactly what all those yuppies that have taken over the neighborhood deserve anyway), but Rogacki is in a whole other class.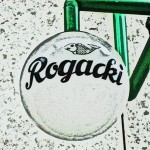 Rogacki is in Charlottenburg on Wilmersdorfer Strasse, just half a block from the Bismarckstrasse U-bahn.  Everyone stands at the counter to eat, though there were a few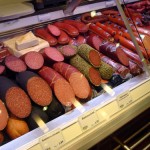 tables out front in recognition of the spring weather.
In addition to the seemingly endless window cases of beautiful sausages and deli meats, this place has some serious fish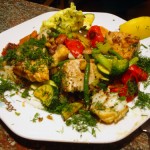 (the big guy with the sad look on his face at the top of this article is also a Rogacki resident).  We ate the most amazing fish soup and grilled fish with vegetables, all prepared by the no-nonsense ladies at the counter before our eyes.  In keeping with the reputation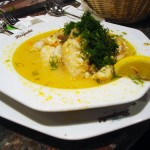 of this family-run business that started in 1928 selling fish exclusively, they still smoke their own fish and eel on site here.  But nowadays, there's also fresh turkey,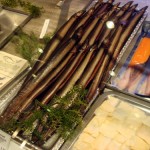 venison, duck and on and on…
In general, Berlin is a great place for fish and seafood, and my last night's dinner at the amazing Turkish-run Fisch Restaurant was the perfect bookend to my Rogacki experience.
Balikci Ergün is on Lüneburger Strasse under the S-Bahn, across the Spree and not so far from Bellevue Station.  You will know it by the blue and yellow sign saying "Fisch Restaurant."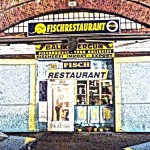 I'm pretty sure that the entrance on Lüneburger Strasse is a back entrance devoted to their fish distribution business, but after a few moments of confusion and seeing what was behind door number one, two and three, I eventually found my way into the restaurant.
This last night was a night to say goodbye to Berlin, and to Maria Thereza Alves and Jimmie Durham, whose three exhibits during gallery weekend and talk at the House for World Culture with Mick Taussig were an important part of my visit.
The conversation at our table twisted and turned into and out of politics and Art, Europe and the Americas.  For the struggling and flailing artist that I am, it was fascinating to hear about how someone with a career as enduring as Jimmie's would repeatedly turn down the opportunity to have a PBS documentary done on his life and work, responding that this sort of documentary kills the artwork, and the artist who made it, every time.  I guess it's the reaction I would expect from the man who's just displayed a gallery of modern-art-stuffed-mooseheads (like what you'd see in a fancy hunting lodge, except this was Art – not taxidermy).  It's hopeful to see someone cleverly poking fun at the bourgeois trophies that great works of Art have become – or always were, perhaps.  But for a young creative who's tired of trying to reinvent her Art's PR campaign on a weekly basis, and who enters a state of nearly-epileptic joy anytime some stranger deigns to add a thumbs-up "like" to her latest facebook post, the idea of turning down a documentary makes the eyes a little moist…a little moist.  I get it, though.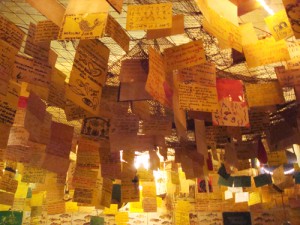 But to get back to the food…Jimmie and Maria Thereza were regulars at the Fisch Restaurant when they lived in Berlin.  This secret little gem of a place was opened by a former World Cup soccer star who played for Turkey, and the walls show photos of his soccer days, while hundreds of cards from fans of his fish hang from the ceiling.  The menu features photographs of the different fish you can order, most of them sharing camera time with a tall can of beer, not to make a beverage suggestion, but to help indicate the size of the fish.  I had a plate full of the tasty little red ones.
In the later hours, strong coffee and friendly shots of anise liquor circulated, as a couple of tables of smartly dressed Turkish men talked seriously over swirling tendrils of shisha that danced in the low yellow light, disappearing like the hours before my plane ride home.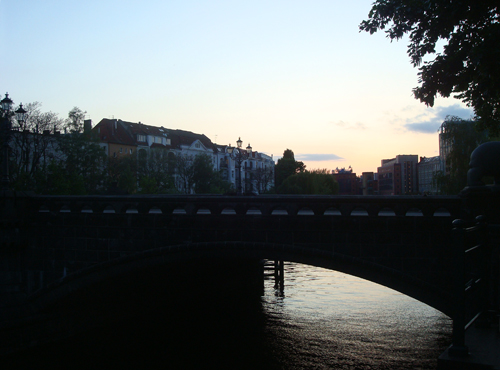 by Ayesha Adamo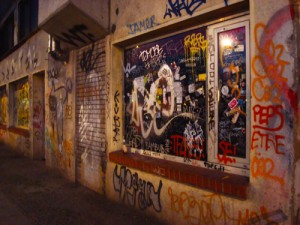 They told me Berghain, Panorama Bar, and an online search admittedly made Watergate and Maria's sound tempting. But what they didn't understand was that I can go to a pretentious club with a line out the front – filled with models and yuppie-come-latelies who order bottle service and live to siphon their soulless bodies into fancy suits and stiletto heels (who can dance in that stuff anyway?), albeit to the tune of way shittier music – in my home base town of New York, where the losers wear Prada.
There was no way I was going to Berghain…even though they don't play top 40 and other sweet sixteen/bar mitzvah soundtracks there like they do in the cipher-of-a-once-great-nightlife-town that is Manhattan. That's not to say that I needed to help inflate the ego-balloon of the international DJs that I can also hear at the last two worthy dance clubs left in the city-that-used-to-have-a-reason-not-to-sleep either.
I wanted local Berlin, and I was willing to go rogue to get it.
It took some asking around, but eventually I was able to procure a map drawn on a napkin showing how to get to Golden Gate. A subsequent online search back at headquarters (the hotel) turned up a primitive and very basic website, also with a map. X marked a spot near Jannowitzbrücke Station, actually directly across the street from it, and I even managed to excavate a photo of the place – a few hundred square pixels under the train tracks and covered with graffiti: now that's the kind of nightclub I want to be at.
Naturally, I set out with the hope finding a club that was just a few shades less underground than the place I DJ at in Brooklyn, and this looked like it might be it. I clicked on the links to the myspace pages of the DJs for that night, and was surprised to read "93s to infinity!" at the top of one of the DJ's pages. A thelemite?!? A sign. This was all I really needed to be 156% sure that I had found the club for me. (You're only getting that last joke if you're playing with Magick.)
Showed up at 3 am, which was kind of early, but I didn't think I'd be able to handle it if I tried for much later, jetlag and all. The door was at the side, but there's no real way to know that besides luck…and now, by reading my blog. It was also surprisingly quiet, and I wondered if the music had even started yet – it's hard to hear from the street because the main room is nestled far below at the bottom of a narrow stairwell.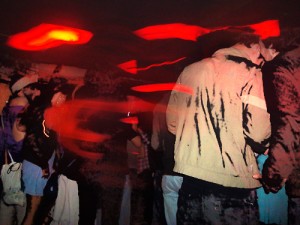 But it sure is loud when you get down there.
And the music! It was like the 1990's all over again. (I got a little misty eyed). There were dirty sneakers and jeans and cheap beer and bombed out bathroom stalls…heaven. I guess that's where they got the name Golden Gate.
And the DJs were spinning…could it be? Vinyl?!? Then it really felt like the 90's all over again. Can't say I miss dragging around a record box that was double my weight, but compared to New York, it's nice to see a club that even has turntables. I could see that this place was also equipped with nice CDJs, and what more can a DJ want, really? I mean, besides having the crowd completely entranced and loving it…which they were, myself included.
The only problem was that every person in there was a chain smoker, packed body to rockin' body in a little black box that was buried underground (literally), and that is how I almost lost a lung in the name of techno.
Sometimes, it's dangerous goin' rogue.
When I got back to headquarters, I had to wash my hair 3 times, air out my leather jacket in the window for 2 days, and wrap my dirty clothes in plastic to prevent them from permeating the rest of my luggage with stank. Ah the things we do for love…
by Ayesha Adamo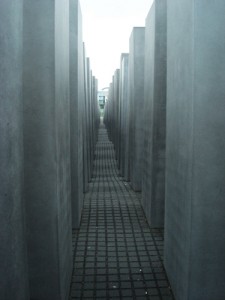 While in Berlin, I visited two large-scale Holocaust memorials – one was the well-publicized and controversial Holocaust Memorial near the Brandenburg Gate; the other was Gleis 17, a seemingly less known spot at Grünewald Station on the S-Bahn.
The official title of the first memorial is Denkmal für die emordeten Juden Europas, or Memorial to the Murdered Jews of Europe, but no one seems to want to use this title.  Most just call it Holocaust Memorial and everyone appears to know which one you mean, which is amazing when you consider that every turn of a street corner in Berlin brings a different plaque or statue to be discovered.  Whether it be names and dates in brass on the ground, bullet dents building character on a beautiful facade, or the graffiti that's left up for posterity, every manmade surface in Berlin carries the marks of who-wuz-here and what happened before, one great layer of impasto after another.
The Holocaust Memorial doesn't have graffiti, though, which has been cause for much controversy – not because people feel that it would be better with graffiti, but because Degussa, the company that made the graffiti-proof coating for the large stone slabs that populate this monument, also made Zyklon B during WWII.
While the inclusion of the word "Murdered" in the Memorial's full title has the sound of something flashy, the actual monument is stoic and austere.  Each of the rectangular stones is of a different height, and the ground that the stones stand on has visible waves of hills and valleys, creating a kind of visual discord that, like the event the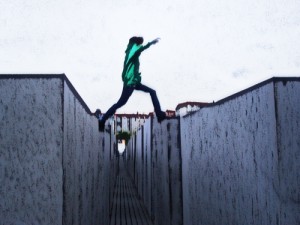 monument recognizes, is difficult to comprehend in any simple kind of understanding.  The vertical parallels of stones, and the grey grids created between them, give the feeling of some fleeting yet absolute form and structure, like entering deeper and deeper into the labyrinth of infinity.
The Memorial expects you to be a part of it, to be in it.  I watched a group of kids playing games and leaping from stone to stone, a high-stakes version of hopscotch.  They were reclaiming the tall grey pillars as their playground in a way that seemed obvious and natural.  And why wouldn't this be a place for play as much as anything else?  There are no signs here to state otherwise.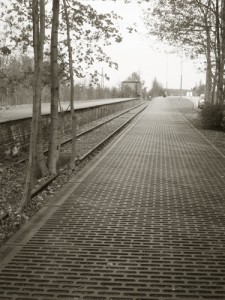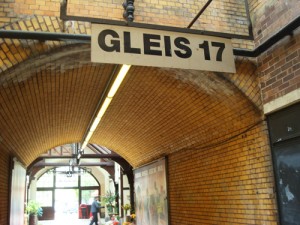 Gleis 17 was the site of deportations to extermination camps during WWII.  The tracks are no longer in use, but remain as part of this memorial, bending off ominously in the distance.  Each of the iron grates along the length of the platform is engraved with the date, destination, and number of Jewish passengers on a different deportation.
The tracks here are now quiet and serene.  There was hardly anyone else around when I visited, but a fresh single rose left at one of the grates proved that others had been there recently.  The only marks of the many that stood there decades before were the numbers pressed into iron every few feet, but there was a feeling about standing there that marked the place unmistakably.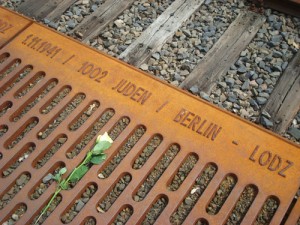 A little dandelion pushing through the platform grate caught my eye, and at one end of the station trees have grown up through parts of the tracks.  Here, nature is reclaiming both the tracks and the memorial.  New life is filling up all the spaces between grates and between tracks, but when we left on the S-Bahn, there was a Roma playing accordion while his son held a cup out that no one was filling up.  Hardly anyone even looked up.