by Ayesha Adamo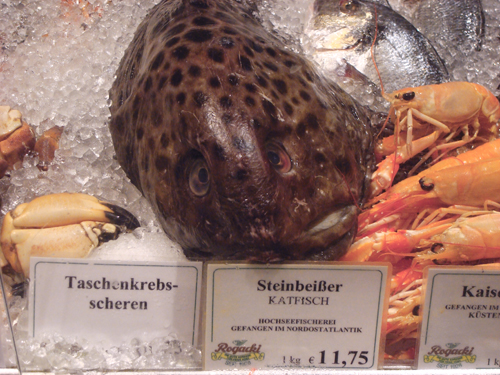 It seemed that the moment my plane landed in Berlin, Spargel season had officially begun.  There was hardly a restaurant in the city that wasn't offering some sort of Spargel-special, four courses of Spargel…even dessert.  I had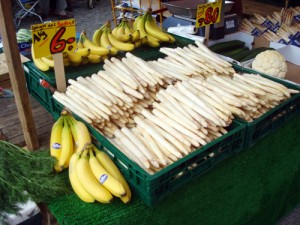 never heard of Spargel before, but I learned pretty quick.  Spargel is this thick white asparagus that Germans seem to go crazy for, especially because it's only available for two weeks out of the entire year.  It's a little bit phallic looking, and maybe that's part of the charm, too.  You can see piles of it here, in this photo I took at the Turkish market in Kotti: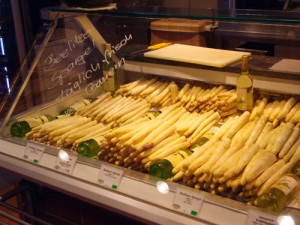 The fantastic deli, "Rogacki," where I got my first taste of Berlin, was no exception to the rule of Spargel either.
Rogacki is the deli to end all delis.  I mean, I used to deeply mourn the loss of Second Avenue Deli down in the East Village after it lost the rent war to a Chase Bank branch (which I suppose is exactly what all those yuppies that have taken over the neighborhood deserve anyway), but Rogacki is in a whole other class.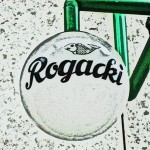 Rogacki is in Charlottenburg on Wilmersdorfer Strasse, just half a block from the Bismarckstrasse U-bahn.  Everyone stands at the counter to eat, though there were a few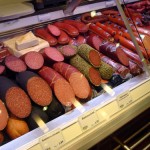 tables out front in recognition of the spring weather.
In addition to the seemingly endless window cases of beautiful sausages and deli meats, this place has some serious fish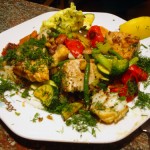 (the big guy with the sad look on his face at the top of this article is also a Rogacki resident).  We ate the most amazing fish soup and grilled fish with vegetables, all prepared by the no-nonsense ladies at the counter before our eyes.  In keeping with the reputation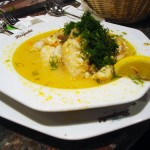 of this family-run business that started in 1928 selling fish exclusively, they still smoke their own fish and eel on site here.  But nowadays, there's also fresh turkey,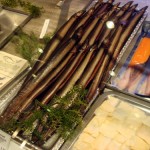 venison, duck and on and on…
In general, Berlin is a great place for fish and seafood, and my last night's dinner at the amazing Turkish-run Fisch Restaurant was the perfect bookend to my Rogacki experience.
Balikci Ergün is on Lüneburger Strasse under the S-Bahn, across the Spree and not so far from Bellevue Station.  You will know it by the blue and yellow sign saying "Fisch Restaurant."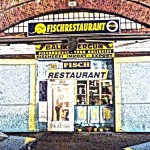 I'm pretty sure that the entrance on Lüneburger Strasse is a back entrance devoted to their fish distribution business, but after a few moments of confusion and seeing what was behind door number one, two and three, I eventually found my way into the restaurant.
This last night was a night to say goodbye to Berlin, and to Maria Thereza Alves and Jimmie Durham, whose three exhibits during gallery weekend and talk at the House for World Culture with Mick Taussig were an important part of my visit.
The conversation at our table twisted and turned into and out of politics and Art, Europe and the Americas.  For the struggling and flailing artist that I am, it was fascinating to hear about how someone with a career as enduring as Jimmie's would repeatedly turn down the opportunity to have a PBS documentary done on his life and work, responding that this sort of documentary kills the artwork, and the artist who made it, every time.  I guess it's the reaction I would expect from the man who's just displayed a gallery of modern-art-stuffed-mooseheads (like what you'd see in a fancy hunting lodge, except this was Art – not taxidermy).  It's hopeful to see someone cleverly poking fun at the bourgeois trophies that great works of Art have become – or always were, perhaps.  But for a young creative who's tired of trying to reinvent her Art's PR campaign on a weekly basis, and who enters a state of nearly-epileptic joy anytime some stranger deigns to add a thumbs-up "like" to her latest facebook post, the idea of turning down a documentary makes the eyes a little moist…a little moist.  I get it, though.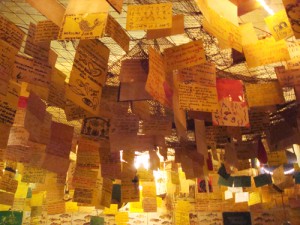 But to get back to the food…Jimmie and Maria Thereza were regulars at the Fisch Restaurant when they lived in Berlin.  This secret little gem of a place was opened by a former World Cup soccer star who played for Turkey, and the walls show photos of his soccer days, while hundreds of cards from fans of his fish hang from the ceiling.  The menu features photographs of the different fish you can order, most of them sharing camera time with a tall can of beer, not to make a beverage suggestion, but to help indicate the size of the fish.  I had a plate full of the tasty little red ones.
In the later hours, strong coffee and friendly shots of anise liquor circulated, as a couple of tables of smartly dressed Turkish men talked seriously over swirling tendrils of shisha that danced in the low yellow light, disappearing like the hours before my plane ride home.